ASR Based
PALM Associates, Inc. is a
Nuance Partner
Speechworks Partner
Dialogic partner
NMS alliance member
Brooktrout developer

Concierge Voice Portal
This system was implemented and demonstrated to a major U.S. carrier. It was an advanced location based service that provided traffic weather, and business information to cellular telephone subscribers. Palm's role was overall developer and integration contractor for this deployment.
Location information for each subscriber was obtained using Signal Soft's local.info interface. Traffic and weather feeds were obtained from providers on the Internet.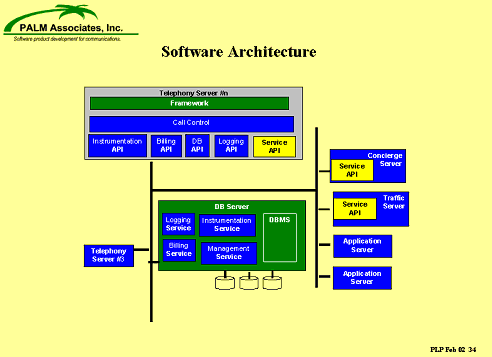 Nuance Automatic Speech Recognition (ASR) was utilized for speech recognition. In addition, Nuance's VXML (Voice XML) Voyager product (still in Beta at the time) controlled the call flow and PALM's implementation of custom Nuance Speech Objects provided data handling and communications between the VXML pages and the content providers. This advanced use of the VXML interface is illustrated in the following figure.
This project demonstrated PALM's ability to rapidly absorb new concepts such as Nuance's VXML Voyager browser, quickly determine its strengths and then use our expertise from a variety of different languages for implanting the Java based Speech Objects to carry out important data manipulation and communication functions.
Our engineers worked with Signal Soft and the carrier's engineering team to understand this advanced location based service and to determine how to gain the greatest advantage from the information provided.
In developing this product, we used off the shelf software in an imaginative way to quickly and costs effectively meet our customer's needs.